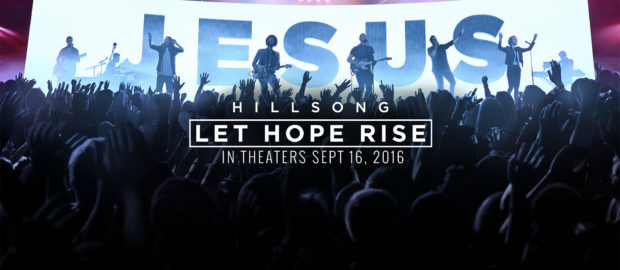 HILLSONG – LET HOPE RISE
Capturing the on-stage energy and off-stage hearts of the Australia-based band Hillsong UNITED, HILLSONG–LET HOPE RISE is a new motion-picture genre—the theatrical worship experience. The film explores Hillsong's humble beginnings and astonishing rise to prominence as an international church whose songs are sung every Sunday by more than 50 million people worldwide.
A NOTE FROM DIRECTOR MICHAEL JOHN WARREN
I'm not a religious person, but I learned things from working with and becoming friends with the members of Hillsong UNITED. They are lovely people. They are sincerely giving. They are sincerely supportive. I don't believe the same things they believe, but I'm learning from them and I'm taking lessons from them and I believe I've become a better person having spent a year studying them.
Their mission — without exaggeration – is to make music to save souls. They are trying to get people to discover Jesus. That's probably the most righteous reason to make music. Whether you're religious or not, it's hard to look at that and not feel good about it.
They're also the most joyful group. I would go and film them and when I left I'd be kind of bummed I wasn't with them anymore. I'd see them on Instagram posting photos from some city where I wasn't with them and I'd be sad about it. That doesn't happen often when I'm making a film about someone else.
HILLSONG-LET HOPE RISE is a natural progression for me as a director because my foundation is built on my early life in music and my extensive experience as an editor. I consider musicality and editorial storytelling among my most valuable skills.
The scope of my work has expanded since the success of my directorial debut, Jay-Z's FADE TO BLACK. Today, I specialize in unique scripted material like THE MAGIC OF HEINEKEN, large-scale event films like RENT: FILMED LIVE ON BROADWAY, and stylized documentaries like NICKI MINAJ: MY TIME NOW.
For more information visit their official website here
Comments
comments