Marshall Bruce Mathers III, better known by his stage name Eminem and by his alter ego Slim Shady, is an American rapper, record producer, songwriter and actor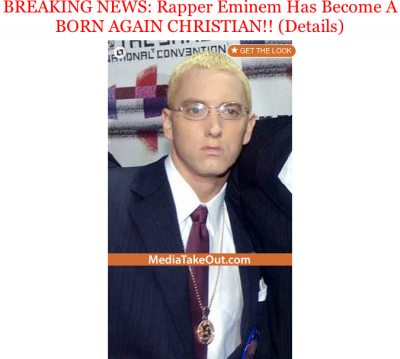 The past year there have been rumors all over the internet that controversial rapper Eminem has given his life to Christ and is born again.
Many media outlets have reached out to him to confirm or deny but he has not responded to any of these claims. If you watch some of his recent videos he does make reference to a born again experience after haven been in rehab the past few years.
The rapper has been known for controversial lyrics relating to women as the "b" word and using the "f" word when referring to homosexuals. He has been fighting the mother of his daughter for years for custody and talking about it on his lyrics.
Whether or not these rumors are true we here at Truth Television ask that you keep Marshal Bruce Mathers AKA 'Eminem" in your prayers as he battles with his demons and seeks help from the church and counselors; his testimony will have an impact on millions of youth all around the world
Stay tuned for more information: www.thetruthtelevision.com
Comments
comments