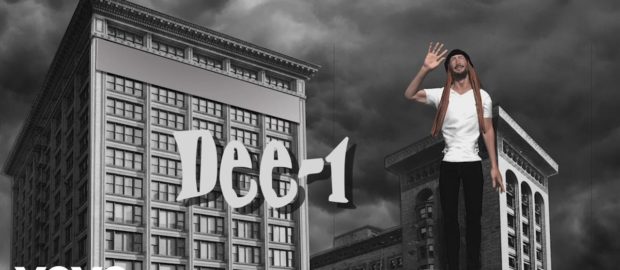 Dee-1 honed his lyrical skills while balancing two careers, teaching middle school children by day and performing at rap shows at night.  The New Orleans native's love for hip-hop was born while attending Louisiana State University during a year filled with grief and heartbreak.
2005 was a very tumultuous year for Dee-1.  First, his world was shaken to the core when his best friend was murdered during a robbery following a flag football game.  Second, he experienced the pain of ending a five-year relationship with his high school sweetheart. Third, he watched his hometown of New Orleans endure the catastrophic flooding of Hurricane Katrina. Finally, his life flashed before his eyes when he was the victim of an armed robbery at gunpoint. Despite the difficult year, Dee-1 interpreted these events as a wake-up call to reaffirm his Christianity.
After being cut from the LSU basketball team as a walk-on, Dee-1 looked for another hobby to fill the void left by the ending of his hoop dreams. Dee-1 began to write about his tumultuous times, using the rhymes as therapy for his collective experiences. Dee-1's hobby soon turned into something serious after he took the stage at the popular "Showtime at the Cotillion" on LSU's campus, where he performed his New Orleans-themed song, "Rep da Big Easy," and the socially conscious song, "Let Me be Your Voice." Although Dee-1 did not win the competition, those two songs earned him a standing ovation from the audience, which helped a normally shy kid get over the mental hurdle of performing in front of large audiences.
Upon graduating from LSU in 2008, Dee-1 decided to teach at a middle school in Baton Rouge as a means of paying off his student loans and helping the children of the community.  His hardworking parents, who taught him to take education seriously, would expect no less from their son. As a teacher, he wanted to be viewed as role model for students, so he initially sought to keep his identity as a rap artist a secret. This secret did not last long. While teaching his class one day, a student asked him if he had heard of Dee-1. After initial denial, he reversed his decision and told the entire classroom that he was Dee-1.
"I didn't really want to admit to it," said Dee-1, who spent two years as a teacher before pursuing his rap career full-time. "I didn't know how everyone was going to act toward me being a rapper. But I got a lot of positive responses from other teachers, asking if they could have an autograph. I felt like Joe Clark (the character from the 1989 film "Lean on Me"). Word spread fast once the kids in my classroom knew about me being a rapper… That's when everything took off for me."
Dee-1 is a lyrical giant with a unique ability to deliver thought-provoking messages about overcoming life's obstacles. Not afraid to rap about his past mistakes, he supplies inspirational curse-free lyrics filled with the hope and love of Jesus Christ.  Although inspirational, his songs are backed by commercial beats that reflect the sonic landscape of hip-hop. Dee-1 lives by his "Mission Vision" credo, which he describes as "keeping Christ in your life, using your special talents and creating a better existence for yourself and loved ones." Mission Vision is best summed up in his 3's Up mantra: Be Real, Be Righteous, Be Relevant.
Dee-1 first gained national recognition with the release of his outspoken song and music video, "Jay, 50, & Weezy" in 2010. This breakout single called out three of hip-hop's biggest names; Jay Z, 50 Cent and Lil Wayne, about the content of their music. The video received positive reviews from across hip hop after being aired on MTV Jams and has received close to a million views on YouTube. On the back of "Jay, 50 & Weezy," Dee-1 went on to win Artist of the Year at the NOLA Underground Hip-Hop Awards, earning acceptance from politicians, college professors and teens.
Dee-1 has also enjoyed the recognition from many of his peers in the music industry.  Dee-1 has toured with chart topping and Grammy award winning artists, such as Macklemore, Lupe Fiasco and Lecrae. His online buzz sparked interest from various record labels, including New Orleans based Cash Money Records, however, Dee-1 opted to sign with RCA Inspiration in 2013.
In 2014, Dee-1 was invited to be a participant in the coveted BET Hip-Hop Awards Cypher where he delivered a verse that took social media and the blogosphere by storm.  Dee-1's well-regarded cypher appearance opened the door to additional opportunities at BET including:  headlining a BET Music Matters Showcase; performing on BET 106 & PARK's popular segment, The Backroom; and hosting the red carpet for the 2015 BET Honors—where he interviewed honorees and celebrity guests like Usher, Dr. Johnetta Cole, Anthony Anderson, Ben Vereen and many more.
Dee-1's "Mission Vision" is uncompromising and has allowed him to become bold in his walk with God.  "I'm the rapper that wants kids to walk away from my music motivated to finish high school.  Or people to say that a Dee-1 song helped me when I was contemplating suicide. I just want to play a positive role."
Featuring stand out singles, "Against Us" and "I'm Not Perfect," the 3'S UP EP will be available everywhere digital music is sold on February 17, 2015.
Checkout his official website here
Comments
comments